Ragnarok Battle Offline Character Simulator
Edit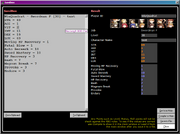 RBO Sims App version 1.2.1
Edit
made by WieQuadrat
Description
Edit
A simulator is a tool that helps you plan the outcome of your character, it shows both the statistics and skills of any job at the maximum level of 30. It is NOT a creator that generates a character for you to play with.
This application can work without Ragnarok Battle Offline runs at the same time, because the purpose of this application for simulating the Status and Skills information.
How to Use
Edit
Start the application and choose a Job
Add level, status points and skill points
You can save and load a save files contain your character simulation info.
You can also view a full screen 3 Players Keys Information. Useful if you have multiple monitor or a second PC (laptop).
You can also use SandBox to create from clipboard copy paste or type the information that can be compiled, or copy or save.
Download Link
Edit
RBO Sims App 121.zip in box.net
Alternative Solution
Edit
There are some web based RBO Character simulator. This application was inspired by those web-based RBO Character simulator.
Online English Lv.30 Char Sim by NKS
http://www.nks.x10.bz/rbosim/index.html
Online English Lv.30 Char Sim by nellshini
http://www.pages.drexel.edu/~tds35/simulator
Offline English Lv.30 Char Sim by nellshini
http://www2.rapidupload.com/d.php?file=dl&filepath=2355 Notes: Downloadable for offline use.
The above simulators are tested compatible with the following browsers.
Windows Internet Explorer 5.5
Windows Internet Explorer 6.0
Netscape 7.1+
Firefox 1.0.7+
Opera 8.5+
External Link
Edit
Ad blocker interference detected!
Wikia is a free-to-use site that makes money from advertising. We have a modified experience for viewers using ad blockers

Wikia is not accessible if you've made further modifications. Remove the custom ad blocker rule(s) and the page will load as expected.