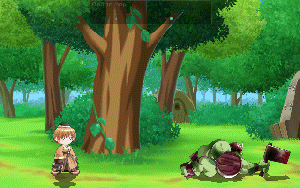 Summons a ball of light that drops from heaven, landing at the front of the user. Damage is based on the skill's level and character's INT.
The ball dissipates upon contact with the mobs, unless launched using Spin Palm Strike or Holy Home Run.
One of Acolyte's most damaging move if hit by Spin Palm Strike (Holy Light Shot).
Increased skill level:

reduces SP cost,
increases damage, and
decreases the delay between hits when launched (allowing for more hits per ball).

A maximum 10 Skill Points can be used on this skill.
Requirements
Edit
↓↘ →+B
Press Down, Forward+Strong Attack
Launching
Edit
Spin Palm Strike (Male Only) requires at least 1 point in this skill and STR 10 + DEX 10.

A ball of light struck by the Spin Palm Strike will travel horizontally across the screen, capable of multiple hits to mobs.
The timing of the ball strike determines the trajectory height.

Holy Home Run (Female Only) requires at least 1 point in this skill and STR 10.

Using the mace and hit the ball to change the orbit of Holy Light horizontally. The ball flies horizontally, hitting multiple times
The timing of the hit determines the angle of flight.
Gender Differences
Edit
No Differences
Ad blocker interference detected!
Wikia is a free-to-use site that makes money from advertising. We have a modified experience for viewers using ad blockers

Wikia is not accessible if you've made further modifications. Remove the custom ad blocker rule(s) and the page will load as expected.