Ragnarok Battle Offline Monster Changer
Edit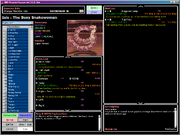 RBO Monster Changer version 3.1.0
Edit
made by WieQuadrat
Description
Edit
a lot of people is thrilled with the idea of playing as a monster as soon as PACNyx can see all resource in RBO but i noticed that a lot of people getting all confused by extension and renaming and so many headaches for changing yourself into a monster. I'm confused too because of the complexity of renaming and changing all those FOB and DAT. *sigh* I'm a whiner.... so since i'm a whiner, i give you this application.
You need to use PACNyx to extract the needed monster's files and download the Monster Compilation pack for monster information
How to Use
Edit
Download PACNyx application. View more info in PACNyx topic
Extract all PAC in your RBO using PACNyx. (allocate around 2,5 GB hd)
for example

-C:\
--Programs\
---PACNyx\
----DATA01\     <-----contains KAFRA.DAT & FOB, DOPPELGANGER.DAT & FOB, and so on
----EX1DISC\    <-----contains EX1 monster
----EX2DISC\    <-----contains EX2 monster
----EX3DISC\    <-----contains EX3 monster

Download RBO Monster Changer
Download the Monster Compilation 006 too and extract them to you RBO Monster Changer folder
make sure you click BACKUP to backup some character .FOB or .DAT
Setup Screen : set the path for RBO GAME. choose the latest RBO EX Scenario if you have one.
Setup Screen : set the path for PAC Extracted files in the SETUP screen (in step 6). As in this examples we choose the "C:\Programs\PACNyx" folder according to step 2.
Choose a monster in the left grid then choose the character (by default is Swordman) after that click CHANGE
If you want your character back to Swordman press RESTORE
Download Link
Edit
Alternative Solution
Edit
To change player into a monster manually, refer to this procedure in Play as Monster in Advance Gameplay Section
External Link
Edit
Ad blocker interference detected!
Wikia is a free-to-use site that makes money from advertising. We have a modified experience for viewers using ad blockers

Wikia is not accessible if you've made further modifications. Remove the custom ad blocker rule(s) and the page will load as expected.