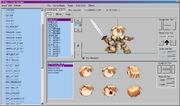 PACNyx+ v1b
Edit
made by Nyxojaele
Description
Edit
PACNyx+ version1.0 is now released.
Fully Featured editing, as far as current knowledge on the file formats.
Full pose list editing. This means adding/removing/renaming existing poses as they appear in the file.
Full editing of all poses. This means defining new body parts on a sprite sheet, and positioning/scaling/rotating them, adjusting their layers, etc.. so that they can create a final pose for the entity in question.
Full special effect list editing. This means adding/removing/renaming existing poses as they appear in the file.
Full special effect editing. This means changing the graphics of a special effect, and defining it's borders as are used for hit detection (?) in-game.
Viewing of all included "Strings" in the file. These strings are never loaded/used by the game, so there is no need to ever edit them. The viewing of these strings exists only for the curious.
How to Use
Edit
Since there's no documentation, here's a couple of things you may not know right off the bat:
Right click on stuff! Often a popup menu will give you many options about what you can do with what you have selected~
There are many known issues, most of which are minor, with this unfinished build, but one of the most glaring is that some special effects do not render correctly, but they still render well enough that you can easily tell what they are. I am well aware of this, but because of the way the effects are stored, they require some special settings to render them correctly, and I have yet to find settings that work for both types, so I set the settings that will render -most- of the effects correctly.
Please everybody take note: This is an unfinished build- while I appreciate bug reports, and will likely write them down, please don't expect much, if anything, in the ways of updates until I can actually get around to working on a finalized build! Also take note that I will provide limited, if any, support for problems trying to run the program, as well, so please, help each other out!
This executable is using ClickOnce technology, which means it should automatically check for and install all prerequisites needed to use PACNyx+ when you run setup. It will add a link to your start menu, and an option to uninstall in your Add/Remove Programs Control Panel. No complicated dialogs- You literally only have to click once after running setup.exe, and it'll all be taken care of for you. (Unless you need more components-- their installers might require you to click more)
Download Link
Edit
External Link
Edit
Ad blocker interference detected!
Wikia is a free-to-use site that makes money from advertising. We have a modified experience for viewers using ad blockers

Wikia is not accessible if you've made further modifications. Remove the custom ad blocker rule(s) and the page will load as expected.