You can access the Ranking viewer from Main menu > View Ranking. There are various information that you can choose, such as :
Character Stats
Edit
You can view each character slots information such as:
*Name
*Level
*Job
*Experience amount total
*Status
*Play Count, Play Time, Enemies Kills, Bosses Killed

Read Level to calculate the experience needed to next level
Point Ranking
Edit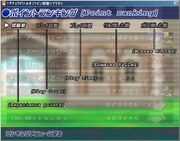 View all character points based on:
* Experience
* Play Count
* Play Time
* Enemies Kills
* Bosses Killed

Time Ranking
Edit
View the stage recording info on each stage such as Best Record, Players, Top Level, Give Damage, Take Damage,
You can also view the replay in that stage
Change the mode into Party Mode to view coop recording info and Solo Mode to view single player record info.
The replay saves are saved by RBO automatically every time a solo or a party finished a stage and the best time will be calculated.
Replay Viewer
Edit
View all replay that you saved after finishing a stage. There are 5 Pages with each pages there are 7 Replay Slots (35 Replay Slots)
You can save a replay of the game every time the party finished a stage.
Title Screen
Edit
Go Back to the main menu Title
Ad blocker interference detected!
Wikia is a free-to-use site that makes money from advertising. We have a modified experience for viewers using ad blockers

Wikia is not accessible if you've made further modifications. Remove the custom ad blocker rule(s) and the page will load as expected.