Sara-chan's Translation Patch
Edit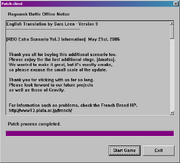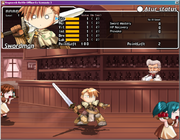 Sara's English Patch - Version 9
Edit
made by Sara-chan
Description
Edit
This is an English translation patch for Ragnarok Battle Offline.
ONLY compatible with Extra Scenario Volume 3. If you install it with a different RBO version, it is likely to crash or freeze.
For use with the RBO Japanese version ONLY (tested on Indonesian and it works).
How to Use
Edit
Instructions are in the zip file.
This version includes an uninstaller as well, with no more worries about overwritten files.
Download Link
Edit
Alternative Solution
Edit
Using Indonesian PAC to change in English
Using PACNyx Translation Beta Patch
External Link
Edit
Ad blocker interference detected!
Wikia is a free-to-use site that makes money from advertising. We have a modified experience for viewers using ad blockers

Wikia is not accessible if you've made further modifications. Remove the custom ad blocker rule(s) and the page will load as expected.