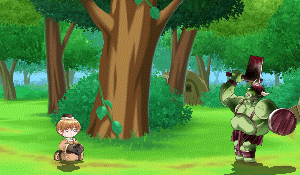 Teleport randomly from the ground or air to a distance.
Instant casting
Invincible until fully teleported
Teleporting a longer distance seems to take more time, and thus has a longer window of invincibility
10 SP cost
A 1 Skill Point max can be used.
Requirement
Edit
Nothing (Default at start up)
↓↓+B (also while in Air)
Press Down, Down+Strong Attack (also while in Air)
Gender Differences
Edit
Teleports from ground to ground, or from air to air. Distance is up to a full screen, and always at the user's direction.
Air teleport may try to place the Acolyte next to an enemy (needs testing).
While in the air, indefinitely teleport repetition is possible after hitting a target.
From the ground: Teleports vertically to random heights in the air.
From the air: Teleports vertically to the ground with slight distance adjustment at the user's direction.
External Links
Edit
Ad blocker interference detected!
Wikia is a free-to-use site that makes money from advertising. We have a modified experience for viewers using ad blockers

Wikia is not accessible if you've made further modifications. Remove the custom ad blocker rule(s) and the page will load as expected.